Gilbert A. Schlierer, 32°, KCCH
Commander

Art Montgomery 32° K.C.C.H.
Venerable Master, Lodge of Perfection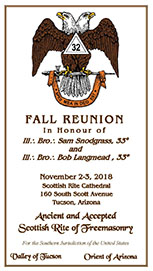 2018 Fall Reunion ~ November 2nd and 3rd. Download the schedule ...




The Child Language Center is a not-for-profit community outreach program that has provided early intervention services to children with speech/language disorders since 1989. Its activities are supported by The Scottish Rite Charitable Foundation, The University of Arizona, and the generosity of individuals and organizations in the Tucson area.